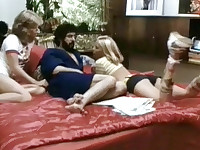 Teenage threesome
A guy is laying on the bed, taking to two young, blonde girls. The girls strip off their clothes and one of them begins to suck his cock while the other sits on his face to have her crotch licked. A little later he fucks both girls in turns.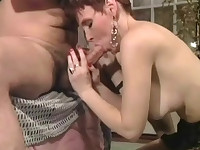 Screwing a MILF
A middle aged wonman is talking ot a man in a bedroom. She takes off her robe, showing her black underwear. The guy massages her pussy. A little later both of them are naked and she is giving him a blow job before he fucks her.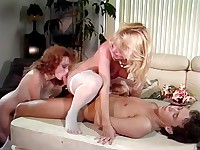 Sexy Nikki Charm threesome pleasure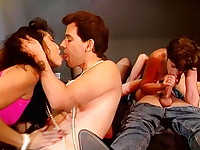 Colossal Orgy 3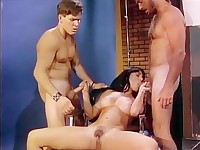 Nasty slut works on two big cocks in 1970s porn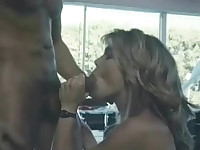 Fucking in the gazebo
A girl and a guy are talking to each other in a gazebo. The guy tells the girl to come closer so he can have a look at her bottom. She goes down on her knees in order to suck his dick before he fucks her in various positions.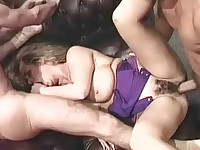 Busty girl in a threesome
A topless girl is standing in between two guys who play with her enormous boobs. A little later she is laying on the floor where one of the guys fucks her in between her tits while the other one licks her pussy.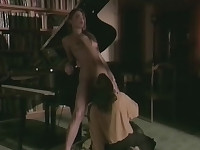 Couple having sex at the piano
A guy has been secretly buying his favourite girl a lot of presents in order to impress her. He really would like to marry her but she is hesitant. Wouldn't it be better to have sex first in order to se if they were made for each other?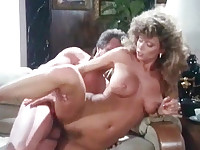 Unexpected fuck
A couple is in a living room arguing with each other. Suddenly she lifts her dress, showing her hairy pussy. He starts licking it. A little later the both of them are naked. The girl leans over the couch so he can fuck her from behind.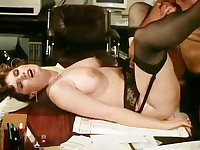 Passionate office fuck in a classic xxx video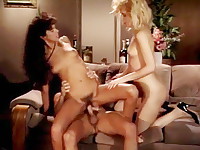 Lucky guy bangs two retro porn chicks at once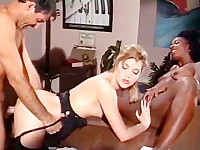 Interracial sex episode with classic porn stars